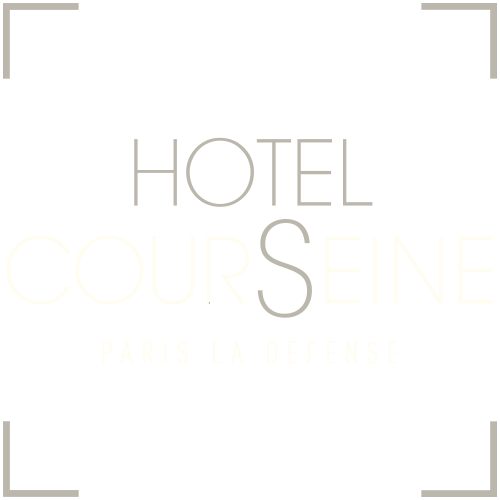 COURSEINE HOTEL PARIS LA DEFENSE
Imagine an elegant, welcoming and (almost) secret address on Paris' doorstep and just around the corner from La Défense. Welcome to CourSeine Hotel. Far from the French capital's hustle and bustle and La Défense's buzz, our 3-star establishment in the heart of Courbevoie's town centre is a genuine haven where you can rest and relax to your heart's content.
We have focused on preserving the Parisian feel of our hotel during recent renovations as we want our guests to enjoy an authentic setting. Our 33 rooms feature a modern, elegant design which beautifully contrasts with the architecture of this historic, listed heritage building.
District
Situated only a few minutes' walk from La Défense, CourSeine Hotel enjoys a prime location with many restaurants and shops nearby. A short ten minute walk will get you to the CNIT, Grande Arche, 4 Temps shopping centre and U Arena. Want to explore the City of Lights? Simply take the metro a couple of stops and you can explore the centre of Paris.
After a busy day, step inside to enjoy the CourSeine Hotel's cosy atmosphere. Here, everything has been designed for your comfort and to provide you with the best amenities. Just around the corner from La Défense, the hotel features modern facilities, luxury amenities and an ideal setting with a personal feel – a complete contrast to standardised hotels.
Family Weekend
Spend a weekend exploring Paris with your family!
1 night for 2 adults & 2 children = €159

18 Avenue Marceau, 92400 Courbevoie, France